You can customize your execution views by selecting or deselecting columns and using filters.

You can, for example, filter by:
Once you have customized your view you can create saved execution view by clicking the Save filters button.

You can give the preset a customized name. If you want to share the preset with all the team members, click the Share preset with others checkbox.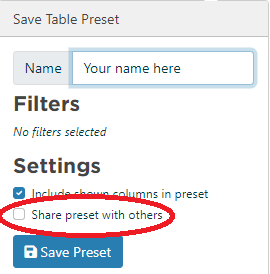 Once you have saved your preset, you can find them from the dropdown menu to the right. Reset to default removes the filters, but you can always select the saved presets again.
Some examples on how to utilize the saved execution views:
Saved views for different steps in your projects. This way you can easily change your view to show only select metadata; parameter columns when you're looking at for example training jobs vs. inference jobs.

A view that shows only jobs from certain users, or just your own jobs.

A view for all jobs that have errored.
Presets Pipelines tab
In addition to the executions table, you can create presets also for pipelines under the Pipelines tab Creating and using the saved views works the same way as for the executions tab.
Pipelines can be filtered based on:
Creator
Title
Status
Is the pipeline a copy or not