By default, a Valohai pipeline will stop if there are any nodes that error.
If an execution inside a Task node errors, it will cause the whole node to error. You can change this behavior on Task nodes by defining a different on-error behavior.
The options are:
stop-all: This is the default behavior. If one execution is the Task node fails the whole node will be errored and the pipeline stopped.
continue: Continue executing the Task node, even if an execution inside the Task errors. The expectation is that at least one of the executions in the Task has been completed successfully.
stop-next: Stops only the nodes that follow the errored node.
On-error example
The below example shows a pipeline with two parallel task nodes.
train is defined with on-error: stop-next
train2 is defined with on-error: continue
Each of the task nodes run 2 executions, and in each of them, one of the executions fails. Using the on-error rules defined in the valohai.yaml the pipeline won't execute the evaluate node because the train node had one failed execution. But evaluate2 will be executed because of on-error of train2 is set to continue.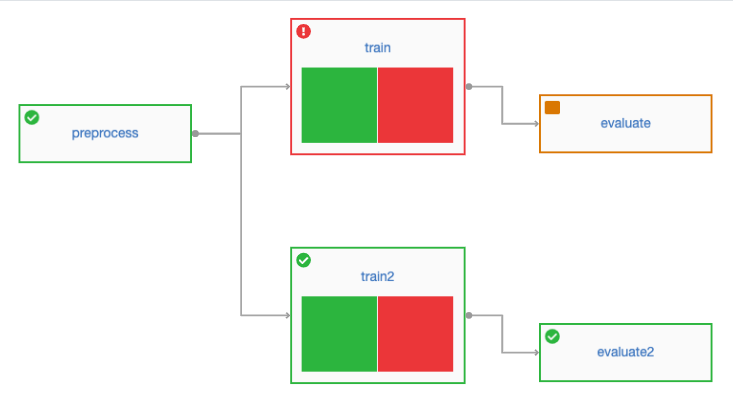 The valohai.yaml used for the pipeline looks like:
- pipeline:
    name: Training Pipeline
    nodes:
      - name: preprocess
        type: execution
        step: preprocess-dataset
      - name: train
        type: task
        on-error: stop-next
        step: train-model
        override:
          inputs:
            - name: dataset
      - name: evaluate
        type: execution
        step: batch-inference
      - name: train2
        type: task
        on-error: continue
        step: train-model
        override:
          inputs:
            - name: dataset
      - name: evaluate2
        type: execution
        step: batch-inference
    edges:
      - [preprocess.output.preprocessed_mnist.npz, train.input.dataset]
      - [preprocess.output.preprocessed_mnist.npz, train2.input.dataset]
      - [train.output.model*, evaluate.input.model]
      - [train2.output.model*, evaluate2.input.model]